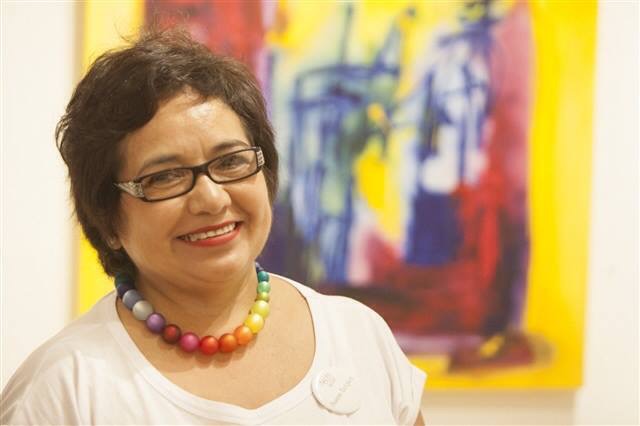 "The artist Susana Enríquez has assimilated the world which initially created her, taken advantage of the cultural heritage which has formed her as a Mexican and transmitted this through her art. Forms, colours, textures, spaces, working in harmony with academic rules well learned and taken to the extreme, where only natural intuition may lead us to a happy ending."
– J. Jesús Martínez Álvarez
Susana Enríquez's first steps into the world of art took place in the field of music as a student of flute and percussions at the Escuela Superior de Musica. Later on music would play a different, but important, role in her artwork. Next she studied theatre. This gives us an idea of the dramatic and flamboyant personality that brings brilliant colours and vibrancy to her work. Being born and raised in Mexico City has also brought an intrinsic Latin American intensity that is readily apparent. Her studies with important Mexican Artists and her constant exposure to Mexican art, both past and present, have been important in her creative process.
Her marriage to Manuel Enríquez (a major Mexican composer b.1926-d.1994) has been a significant influence. Many of her works are directly related to him and more importantly to the extraordinary relationship to music that she formed due to their mutual and varied experiences in the realm of music.
Susana is not of a passive nature and her in situ knowledge of world art and other cultures through her travels has been put to use to define her Idiosyncrasies and enrich her art. She now resides in Australia and had continued her studies and experimentation at the University of Newcastle where she was the recipient of two scholarships: the International Postgraduate Research Scholarship (2003-2006) and the University of Newcastle Postgraduate Research Scholarship (2003-2006).
Susana's arts education began in the field of music as a student of flute and percussion, at present she holds a PhD degree in Fine Arts  (Newcastle University) and a specialisation degree in Art History and Curatorship from the Australian National University.
Susana is a visual artist who paints, draws and etches. She works in a wide range of mediums.   Her theme is the music in painting, but not limited to it.  Susana believes in music's emotional power because music express itself through sound and time, it allows the listener a freedom of imagination, interpretation and emotional response that is not based on the literal or the descriptive but rather on the abstract quality of painting and this is played out through her creative process.
Since 1989 Susana has held 27 Solo Exhibitions and 32 Group exhibitions both local and international including 4 Biennales in Mexico.